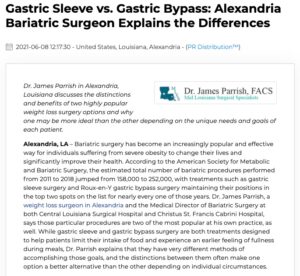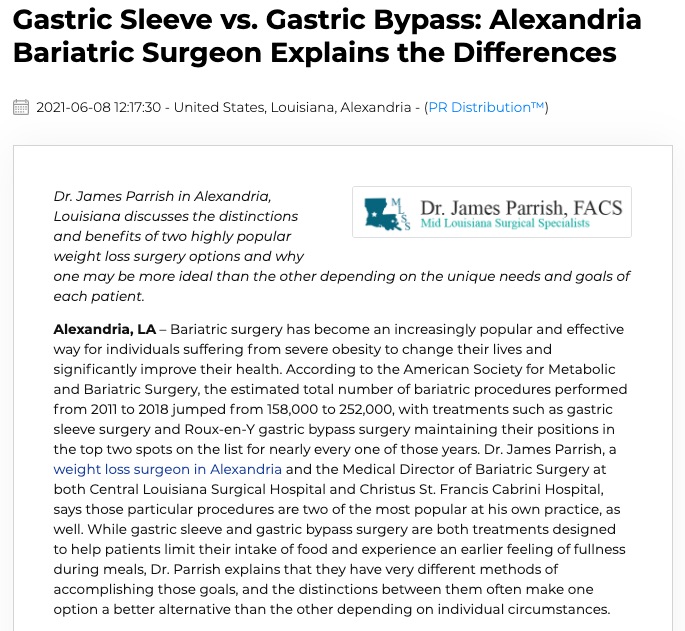 Dr. James Parrish in Alexandria, Louisiana discusses the distinctions and benefits of two highly popular weight loss surgery options and why one may be more ideal than the other depending on the unique needs and goals of each patient.
Alexandria, LA – Bariatric surgery has become an increasingly popular and effective way for individuals suffering from severe obesity to change their lives and significantly improve their health. According to the American Society for Metabolic and Bariatric Surgery, the estimated total number of bariatric procedures performed from 2011 to 2018 jumped from 158,000 to 252,000, with treatments such as gastric sleeve surgery and Roux-en-Y gastric bypass surgery maintaining their positions in the top two spots on the list for nearly every one of those years. Dr. James Parrish, a weight loss surgeon in Alexandria and the Medical Director of Bariatric Surgery at both Central Louisiana Surgical Hospital and Christus St. Francis Cabrini Hospital, says those particular procedures are two of the most popular at his own practice, as well. While gastric sleeve and gastric bypass surgery are both treatments designed to help patients limit their intake of food and experience an earlier feeling of fullness during meals, Dr. Parrish explains that they have very different methods of accomplishing those goals, and the distinctions between them often make one option a better alternative than the other depending on individual circumstances.
Gastric sleeve surgery, also referred to as vertical sleeve gastrectomy (VSG), removes approximately 75 percent of the stomach, leaving it in a shape that resembles the "sleeve" of a shirt. This particular technique can not only help the patient feel full after ingesting smaller amounts of food, but also reduce levels of a hormone called ghrelin, which can diminish feelings of hunger. Dr. Parrish says he is able to perform gastric sleeve surgery utilizing laparoscopic techniques. This advanced method of surgery requires very small incisions, which can ultimately produce smaller residual scars and a quicker recovery following the treatment. With the gastric sleeve procedure, Dr. Parrish notes that many patients are able to lose as much as 50 to 70 percent of excess body weight just one year after surgery and significantly reduce (or perhaps even eliminate) health risks posed by type II diabetes, hypertension, and other conditions related to obesity.
The Roux-en-Y gastric bypass procedure has been a standard weight loss surgery treatment for many years, and Dr. Parrish says it remains one of the most effective options available for many patients who are experiencing severe obesity. Also performed laparoscopically, gastric bypass surgery reroutes the way food is digested. A small part of the stomach is attached to the small intestine in order to "bypass" most of the stomach. Food then goes into this smaller stomach chamber, which can create an earlier sensation of fullness at mealtimes. Plus, the new avenue for food digestion can minimize the absorption of calories in the body. Dr. Parrish says gastric bypass surgery, like gastric sleeve surgery, has proven to help reduce up to 70 percent of excess weight for many patients and may even completely eliminate the threat posed by certain obesity-related health conditions. Dr. Parrish says gastric bypass may be a more suitable option than gastric sleeve surgery for individuals who have a Body Mass Index (BMI) of 50 or higher, severe gastroesophageal reflux disease (GERD), or severe diabetes.
Ultimately, the most significant difference between gastric sleeve surgery and gastric bypass surgery is how the distinct techniques reshape the stomach. Additionally, Dr. Parrish explains that gastric bypass surgery involves a higher risk of a side effect called "dumping syndrome" than gastric sleeve surgery, while the latter has a higher risk of acid reflux. Also, gastric sleeve patients may lose weight a bit more slowly than those who have undergone a gastric bypass. Both procedures have certain advantages and disadvantages; however, Dr. Parrish says they present two exceptional options for qualified candidates who are diagnosed with severe obesity or obesity with related health conditions (known as "comorbidities"). Dr. Parrish notes that the only way to determine whether gastric sleeve or gastric bypass surgery is the most appropriate option is for individuals who are considering bariatric surgery to come in for a personal consultation. During this initial meeting, a comprehensive evaluation is performed to determine whether weight loss surgery is an ideal step to address their concerns. If so, Dr. Parrish says he will discuss the various treatment options that can safely and effectively help the patient lose weight, and recommend gastric bypass, gastric sleeve, or another procedure based on the patient's physiological needs and treatment goals.
For individuals who are exploring weight loss surgery options, Dr. Parrish says some of the most important things to consider are the bariatric surgeon's background and experience, whether they offer a comprehensive program for aftercare and support, and their record of successful results. He advises those who are researching their options to meet with the prospective surgeon once they have narrowed down their choices to evaluate their rapport and their confidence in the doctor's approach. Overall, Dr. Parrish says patients should feel that their surgeon is not only skilled, knowledgeable, and honest, but also is someone who will act as a true partner on their journey to better health.
About James Parrish, MD, FACS, FASMBS
Board-certified in General Surgery, Dr. James Parrish is a Fellow of the American Society for Metabolic and Bariatric Surgery and a Fellow of the American College of Surgeons. He is also a member of the Society of American Gastrointestinal and Endoscopic Surgeons and serves as an Executive Board Member of the Louisiana Chapter of the American Society for Metabolic and Bariatric Surgery. Dr. Parrish oversees a comprehensive weight loss surgery program offering patients both surgical and non-surgical options, including gastric bypass, gastric sleeve, and LAP-BAND® System surgery, as well as the ORBERA™ Intragastric Balloon. The program also includes access to bariatric surgery seminars, support groups, and dietary counseling after surgery to help patients achieve safe and effective weight loss that they are able to maintain long into the future. Dr. Parrish is available for interview upon request.
To learn more about Dr. Parrish and his practice, please visit alexandriabariatricsurgery.com or facebook.com/DrJamesParrish.
Contact:
Dr. James Parrish, FACS, FASMBS
Mid Louisiana Surgical Specialists
3311 Prescott Rd Ste 201
Alexandria, LA 71301
(318) 442-6767
Rosemont Media
(800) 491-8623
www.rosemontmedia.com