What Is LAP-BAND® Surgery?
The LAP-BAND System can be an excellent way for many of our patients to effectively lose weight and live a healthier lifestyle. The procedure is minimally invasive, and helps to control portion sizes when eating, ultimately creating a feeling of fullness much sooner during meals.
The LAP-BAND System was the first gastric banding procedure to be approved by the U.S. Food and Drug Administration (FDA). Ten years after its initial approval in 2001, the FDA's restrictions on candidacy for the LAP-BAND Adjustable Gastric Band have been adjusted, allowing a greater number of patients to qualify for the procedure. Now, patients with a body mass index (BMI) of 30 or more, in addition to at least one obesity related comorbidity (health condition) are considered potential candidates for the LAP-BAND System. Examples of some of the conditions that may qualify include: 
Sleep apnea
High blood pressure
Type-2 diabetes
Heart disease
As an extensively trained and board-certified bariatric surgeon, Dr. James Parrish can evaluate you in order to determine if you are a candidate for this procedure. If you do not meet the requirements, Dr. Parrish will recommend an alternative treatment plan in order to help you lose weight and improve your overall health. Please contact us today to schedule a consultation.  
What Are the Benefits of the LAP-BAND® System?
Patients who have had LAP-BAND Adjustable Gastric Banding surgery are typically able to steadily lose weight at a healthy rate. After surgery, you should have minimal scarring, as the procedure is accomplished laparoscopically. This method eliminates the need for large incisions, and works to minimize procedure and recovery time. The LAP-BAND System allows for ongoing absorption of valuable and beneficial nutrients such as Calcium, B12, and Iron. The shape of your stomach will not be permanently altered, and the band can be adjusted to allow for greater or lesser food intake before a feeling of fullness sets in. Since this procedure is reversible, the gastric band can be removed at any time.
Is LAP-BAND® Adjustable Gastric Banding Safe?
Statistics prove that LAP-BAND System surgery is a safe surgical weight loss treatment when performed by a qualified surgeon who takes maximum efforts to minimize the potential for complications. Nonetheless, all major surgeries come with inherent risks, and Dr. Parrish will review them with you during the initial consultation. It is also necessary for patients to follow all pre-operative and post-operative guidelines to the letter in order to ensure they are losing weight safely and effectively. Dr. Parrish will discuss all risks and benefits of LAP-BAND Adjustable Gastric Banding with you before the treatment plan is developed to make sure you have a full understanding of this procedure as you make your decision.
How Does the LAP-BAND® System Compare with Gastric Bypass Surgery?
These two popular weight loss procedures both offer the potential of significant results, and both can cause a patient to feel full faster than they did before the operation. However, several differences exist to separate these two options. Gastric bypass surgery typically achieves greater weight loss initially, and the weight loss is faster and more consistent. The gastric bypass is not easily reversible, while gastric banding can be removed and another treatment tried if desired. Regular checkups will be part of the gastric banding process to adjust the fit and ensure the optimal experience and outcome. And gastric banding is an outpatient procedure, whereas the gastric bypass is a two-day hospital stay, due to the latter's more involved operation. Dr. Parrish will go over all of your options in detail at your initial consultation and help you decide which approach offers you the best possible result.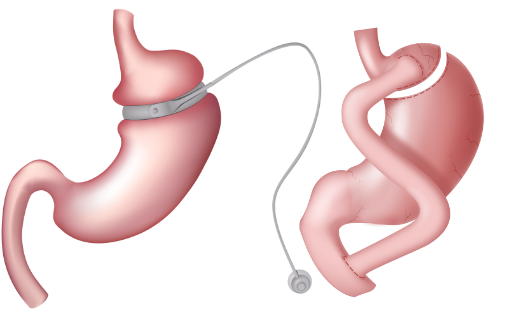 How Does the LAP-BAND® System Compare with Gastric Sleeve Surgery?
Gastric banding and gastric sleeve surgery have many of the same differences as gastric banding and gastric bypass surgery. All of these procedures can make the patient feel full faster during eating, and all of them can achieve significant weight loss. Gastric sleeve surgery is a less complex procedure than a gastric bypass, but it is also irreversible, while gastric banding can be undone. Both require patients to follow a specific diet afterwards, and gastric banding will require routine follow-up appointments to adjust the band as you lose weight. We know that finding the right bariatric surgery for you can be a complicated process, and Dr. Parrish will guide you every step of the way, beginning with helping you choose the ideal weight loss technique for your needs and goals.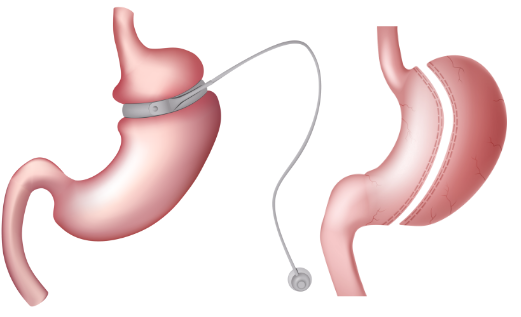 What Are the Candidacy Requirements for LAP-BAND® System Surgery?
As with any weight loss procedure, an evaluation to see if you are a good candidate is the first step. For the LAP-BAND System, patients should have a history of unsuccessfully trying to lose and keep weight off, have a BMI of 30 or higher with a weight-related medical condition, or 35 and higher without weight-related medical conditions, and be 18 years of age or older. If you have a BMI of 50 or higher, another procedure may be better suited to your needs or you may be asked to lose some weight initially before trying LAP-BAND surgery.
What Should I Expect During the LAP-BAND® Adjustable Gastric Band Procedure?
During LAP-BAND System surgery, Dr. Parrish will section off the upper portion of the stomach by laparoscopically inserting and attaching a saline-filled adjustable band. Once attached, the band creates a small pouch in the upper portion of the stomach. The pouch allows you to limit your food intake and feel full much earlier than usual while eating. The amount of food you are able to consume before achieving a feeling of fullness can be increased or decreased postoperatively by adjusting the amount of saline in the band.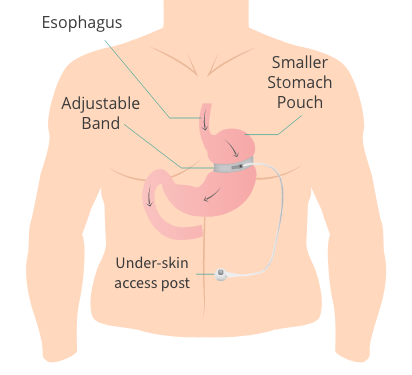 How Long Does the LAP-BAND® System Procedure Take?
LAP-BAND System surgery can often be performed as an outpatient procedure. The precise timing will vary depending on the patient's particular needs, but the surgery typically takes less than one hour to complete.
What Should I Expect During LAP-BAND® Recovery?
Because we use a laparoscopic procedure to insert the LAP-BAND System, recovery times are generally short. The procedure is done on an outpatient basis, and most of our patients have been able to gradually return to their daily activities after a few days. We will schedule regular follow-up appointments with you over the ensuing year to make sure you are losing weight safely and effectively.
What Are the Typical LAP-BAND® System Results?
Patients from across America have experienced successful results with LAP-BAND System surgery, shedding hundreds of pounds and turning their lives around.
After the LAP-BAND System procedure, it is important to continue working towards a healthier lifestyle. This surgery is intended to assist people on the road to becoming healthier; it is not a cure for morbid obesity by any means. Our practice offers excellent resources to help our patients maintain a healthy weight after surgery and continue to make positive lifestyle changes. Staying on track after surgery can be difficult to do alone, so we encourage our patients to join one of our support groups and follow nutritional guidelines to help them through the process.
Dr. Parrish and his team of medical weight loss professionals are here to support you, and we will provide you with information and materials to help you throughout your weight loss journey.
Are There Any LAP-BAND® Side Effects?
Most people have minimal side effects after receiving gastric banding; however, ulceration at the band site has been reported in rare cases. Other potential side effects can include indigestion, weight regain, nausea, vomiting, and dehydration, so it's very important to follow the instructions about diet and care to minimize the risk of these issues and to achieve the desired weight loss as safely as possible. Constipation is a more common problem, and we can recommend some solutions to help limit its development. Unlike some other bariatric procedures, vitamin and nutrient deficiencies are not typically seen.
What Are My Food Restrictions After LAP-BAND® System Surgery?
After LAP-BAND System surgery, you will be directed to adhere to a restricted diet during the recovery period. For the first two days following the procedure, a clear liquid diet will be necessary, followed by protein shakes and foods that do not have to be chewed. The diet will gradually transition to more solid foods over the next few weeks.
Be aware that, for the first few days after surgery, you may not feel hungry at all. This is normal, and your appetite should return soon. As part of our comprehensive weight loss surgery aftercare program, your progress will be monitored and our nutritionist will provide you with detailed instructions on any supplements that may be necessary and what you will be able to eat during your post-surgery diet.
What Are the Possible Complications from LAP-BAND® System Surgery?
Due to the minimally invasive approach and reversible nature of the gastric banding procedure, surgical complications are quite rare. Some patients may experience band slippage—when the band moves out of place—or stomach erosion in the event of mechanical malfunction or anatomical rejection, although these issues are unusual and not common. We will monitor your band and your health often to reduce the risk of complications and to provide the best possible care for you as you lose weight and achieve a healthier lifestyle.
How Much Does LAP-BAND® Surgery Cost?
The price of LAP-BAND® System surgery can vary from location to location, doctor to doctor. At our practice, the cost of gastric banding is approximately $12,000, including anesthesia and hospital facility fees. We will review the total cost of your program with you in full during your consultation so that you are well-informed. The procedure is often covered by insurance, and our medical team will work with you and your medical insurance to cover the cost of care. If desired, we accept weight loss financing plans for patients paying out of pocket.
Additional Frequently Asked Questions About LAP-BAND® Adjustable Gastric Banding
Is the LAP-BAND® System procedure covered by insurance?

Health insurance policies vary so it is best to contact your provider directly to inquire about your specific coverage for bariatric surgery. In general, if your insurance covers weight loss surgery, gastric banding procedures such as the LAP-BAND® option are often included for at least partial coverage. Bariatric surgeries may be covered when diet and exercise haven't worked, or weight has caused serious health problems. Your insurance provider will likely need documentation of previous weight loss efforts and health evaluations or medical records to consider approval for benefits.

Can LAP-BAND® slippage occur?

Although very rare, LAP-BAND® slippage is possible. Slippage can occur when a portion of the stomach slips through the gastric band and creates a bigger pouch above the band. Generally, only a small percentage of patients experience this, but it's important to be aware of the warning signs: extreme heartburn, chest pain and/or pressure, night coughs, and pain, nausea or vomiting when eating solid foods are some of the possible indications. Patients should contact their surgeon immediately if they are experiencing any of these symptoms.

When can I return to my normal routine after LAP-BAND® System surgery?

Healing and recovery time is different for each patient and should be evaluated by your doctor on an individual basis. In general, the average time for LAP-BAND® System patients to be able to return to work and a somewhat normal routine is within one week; some individuals may need a bit more time to rest and recover. This often greatly depends on the level of physical or active duties involved. Many patients need to avoid more strenuous activities (such as lifting over 15 pounds) for about four to six weeks.

How much weight will I lose after LAP-BAND® System surgery?

The average weight loss for patients with a LAP-BAND® Adjustable Gastric Band is typically between 40 – 50 percent of their excess weight. This can be more or less depending on their commitment and dedication to an ongoing, healthy diet and fitness regimen. LAP-BAND® System weight loss is often a bit more gradual than some of the other bariatric surgery options, but the treatment is also considered to be less invasive. Patients should be sure to follow the recommended aftercare program to be successful with long-term weight loss goals.

What if I regain weight after the LAP-BAND® Adjustable Gastric Band is placed?

If weight is regained following surgery, consult with your bariatric surgery team to evaluate the cause of the weight gain. Some patients may continue to struggle with psychological or lifestyle factors; support groups and other aspects of a comprehensive aftercare program can be helpful in these cases. If the cause is due to an underlying medical problem or a rare issue with the gastric band itself, it is imperative to seek assistance from your surgeon or appropriate medical professionals. Dr. Parrish and the team at our practice are always available to discuss any concerns that may arise after the LAP-BAND® procedure.
Contact Dr. James Parrish
If you feel that you may be able to benefit from LAP-BAND Adjustable Gastric Banding, or perhaps another form of  bariatric surgery, please contact us today to schedule a consultation with Dr. James Parrish.