If you are thinking about ways in which you can start down a new path toward better health and significant weight loss, you should know that advances in the field of bariatric surgery have made it possible to provide more options than ever before. Our experienced bariatric surgeon, James Parrish, MD, has a genuine understanding of how challenging it can be to lose weight. He also knows that each individual is different, and therefore requires customized treatment plans specifically designed for patients' unique needs and personal goals. Dr. Parrish will work with you as a true partner throughout the treatment process and will provide you with a range of options for support so that you have the best-possible chance of obtaining long-lasting, successful results.
Ultimately, Dr. Parrish and our bariatric surgery team want to help you reduce general health risks and reach your weight loss goals to become healthier and more self-confident. During your initial consultation, Dr. Parrish can talk with you about the surgical or non-surgical weight loss options that may be ideal for your needs. From the first meeting with Dr. Parrish all the way through to your post-operative follow-up appointments, we will be here for you on this exciting new journey!
Below you will find information, as well as links to more detailed pages, that will assist you in learning more about some of the options available at our practice and what you can expect from the bariatric surgery experience.
Roux-en-Y Gastric Bypass
This type of bariatric surgery is well-known for its overwhelming success. Roux-en-Y gastric bypass is a surgical procedure in which Dr. Parrish can reduce the size of your stomach, therefore minimizing the amount of food that is required to feel full. The small intestine is also modified to decrease the absorption of calories from consumed food. This procedure has a long and proven track record and has helped many Americans lose massive amounts of weight and regain a healthy lifestyle.
Gastric Sleeve
Gastric sleeve surgery, or vertical sleeve gastrectomy (VSG), is one of the options available to our patients for weight loss surgery. This procedure involves removing a portion of the stomach in order to minimize how much food the stomach itself can hold before feeling full. Gastric sleeve surgery also changes the levels of hormones which act on the brain and control the desire to eat. This leads to less hunger and improved portion control, thus allowing patients to lose a large amount of weight safely.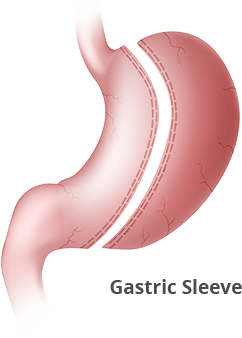 Gastric Banding
In order to have a customizable, gradual weight loss, many eligible patients choose to have gastric banding procedures in lieu of other major weight loss surgeries. The gastric band procedures can be adjusted with band fills, and the procedures are completely reversible. Dr. Parrish offers the LAP-BAND® Adjustable Gastric Banding System. This treatment creates a smaller stomach chamber to hold food, helping patients to achieve an earlier feeling of fullness at mealtimes.
ORBERA™ Intragastric Balloon
The ORBERA™ Managed Weight Loss System is an innovative, non-surgical treatment program that may be an option for patients with a body mass index that rates between 30 and 40. The procedure involves the placement of an intragastric balloon inside the stomach for a period of about six months. Once inflated, the balloon can ultimately help patients experience an earlier feeling of fullness at mealtimes. Along with guidance from dietary and fitness experts, the ORBERA™ Managed Weight Loss System is designed to provide qualified candidates with a comprehensive program to help them successfully lose weight.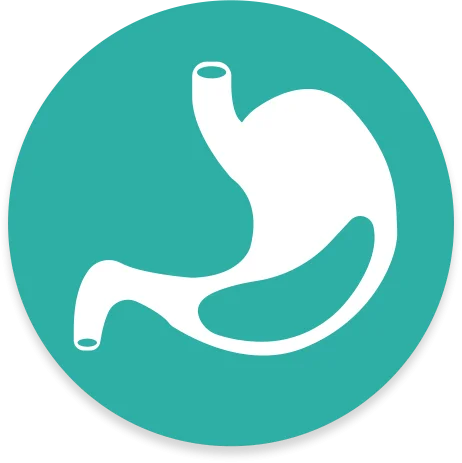 What Can I Expect During the Bariatric Surgery Consultation?
Dr. Parrish will meet with you for an initial consultation to evaluate your needs, talk with you about your goals, and answer your questions regarding weight loss surgery. This meeting is the beginning of a genuine partnership between you, Dr. Parrish, and the team of professionals who will be assisting and supporting you during your weight loss journey. At the initial consultation and throughout the entire treatment process and beyond, you are encouraged to ask questions and learn a great deal about the treatment that is recommended, as well as the recovery process and the lifestyle changes that will be necessary to ensure successful results. Dr. Parrish will explain all aspects of the procedure, including the potential benefits and risks involved, and what you can expect in the days, weeks, months, and years after surgery. He will also discuss your candidacy for specific procedures and make a recommendation as to which treatment is most ideal for your needs. Once that is determined, if you decide to move forward with treatment, Dr. Parrish will develop a customized treatment plan and your next appointment can be scheduled. While the consultation process is an excellent opportunity for you to address any concerns you may have, always know that our team will be here for you at all steps of the treatment and recovery process to answer your questions and help you on your path to better health.
What Happens Before Bariatric Surgery?
After you have met with Dr. Parrish for the initial consultation and a treatment plan has been created, you will be given detailed instructions to help you prepare for surgery and the steps necessary after the treatment has been performed. A special pre-surgery diet will be required (this is described in the Additional FAQs section toward the end of this page), in order to prepare your body for surgery and to help you get used to the dietary changes necessary following surgery.
What Happens After Bariatric Surgery?
One of the most important things to remember about bariatric surgery is that it is just one major step in a process designed to help you lose weight and improve your health. The steps after weight loss surgery are every bit as important as the procedure itself. Following post-operative recovery instructions, ensuring that you are getting the proper nutrition and vitamins, adhering to diet and exercise guidelines, and taking advantage of support groups and other services that can help you along the weight loss journey are all vital components of the post-bariatric surgery process.
Is Bariatric Surgery Safe?
Like any surgical procedure, there are risks involved with bariatric surgery, and those risks will be explained to you in detail before treatment from our bariatric surgeon. That being said, weight loss surgery is one of the safer abdominal surgeries performed today. The benefits of these procedures often outweigh any potential risks – bariatric surgery can reduce the chance of death over five years by approximately 90%.
Is Weight Loss Surgery Covered By Insurance?
Many insurance companies have realized that people who have had bariatric surgery are healthier and have fewer medical problems and claims. Because of this, many of these companies now cover the procedures. In some cases, certain conditions will need to be met before bariatric surgery insurance coverage is approved. Our team includes staff members experienced with the particulars of insurance coverage who can assist you with questions about your insurance policy. If you are unsure if you have coverage, you can use our free insurance check. For individuals who do not have insurance coverage, we work with several reputable healthcare financing agencies that offer convenient financing options for patients who qualify. We also offer a Cash Pay Bariatrics option for patients who are considering out-of-pocket payment for their treatment.
If you would like to learn more about our weight loss surgery options, or if you would like to schedule a consultation with Dr. James Parrish, please contact us today.
Additional Frequently Asked Questions About Weight Loss Surgery
Do I qualify for surgery?
This is based mainly on your BMI. If your BMI is over 40, you are likely a candidate. Additionally, if your BMI is over 35 and you have at least one illness which is associated with excess weight, you also may qualify. Recent studies have demonstrated that patients with a BMI of 30 or above and at least one associated illness also benefit, although most insurances do not yet pay for this indication.
How much weight will I lose after surgery?
The answer will depend on your unique needs, goals, and response to surgery. On average, patients with a gastric band lose around 40% of their excess weight. Patients who have a gastric sleeve or gastric bypass can expect to lose between 50% – 70% of their excess weight. The most important predictor of successful weight loss is regular, lifelong follow-up with your surgeon after the procedure.
Will I regain weight after bariatric surgery?
After surgery, you will be given post-surgery recommendations that can help you to maintain your size after the procedure has helped you to lose excess weight. If these recommendations are not followed, it is possible to regain the weight. Continuing to visit with your surgeon for long-term follow-up appointments is the most important thing you can do to avoid gaining the weight back.
Which bariatric surgery is right for me?
Depending on your candidacy, you may qualify for a variety of procedures. In general, most people will do very well with a gastric sleeve. Patients with severe diabetes or GERD, or with a BMI over 50 may want to consider the gastric bypass. For more information on each type of surgery, please review the detailed information on the individual procedural pages on our website, or feel free to contact us with questions.
Do I have to lose weight prior to surgery?
No. You are not required to lose weight prior to surgery, but most patients will find that they lose weight through diet and exercise as they progress through our pre-operative program.
Will I have to go on a diet before bariatric surgery?
Yes. Our skilled medical team will plan a pre-operative diet for you to follow to help you become comfortable with the basic nutrition plan you will need to maintain after your procedure. In most cases, this diet will begin about two-to-three weeks before your operation. In addition to easing you into a new lifestyle, this diet is designed to reduce fatty tissue in the abdomen and shrink the size of the liver to reduce the risk of surgical complications. While two-to-three weeks is standard, your insurance policy may dictate a longer physician-monitored program as part of the coverage requirement. This plan is designed more to be educational than a pre-operative technique, and we will discuss this situation if it applies to you.
Will I have to stay in the hospital for a long time?
We perform bariatric surgeries laparoscopically, which helps our patients to have a faster recovery and return to their daily routine sooner. Time spent in the hospital after your procedure will vary depending on the type of surgery and your individual situation. In most cases, however, a gastric banding procedure can be performed as a same-day surgery, gastric sleeve patients stay overnight, and gastric bypass patients stay for two nights. Most patients can return to work in about a week.
How long will I be out of work after the procedure?
Everyone heals at a different rate, and we encourage you to take the time you need to fully recover. Many individuals return to normal activity, depending on their work-related responsibilities, in about one to two weeks. That said, you will not be able to strain or perform heavy lifting for four weeks, so if your daily routine is demanding or calls for strenuous movement, you may need to extend the healing period a bit longer. Dr. Parrish can help you determine when the appropriate time to return to your regular schedule will be.
Is bariatric surgery, a tummy tuck, or liposuction the best option for me?
If your BMI is over 30 and your main goal is weight loss and improved health, then bariatric surgery might be the right choice for you. However, if you are a normal weight and concerned about specific areas of fat that seem resistant to diet and exercise, liposuction may be a more appropriate choice. If you have excess skin on your stomach, or it appears "flabby," a tummy tuck (abdominoplasty) is likely a better choice. Bariatric surgery is typically performed for individuals who suffer from severe obesity, whereas liposuction and abdominoplasty are considered cosmetic procedures for patients who are often in reasonably good health. If you are unsure which option is best for you, please feel free to contact us to schedule a consultation with Dr. James Parrish.
Does weight loss surgery work?
Yes. Weight loss surgery has been shown to be the most effective treatment for severe and morbid obesity. It is also the most effective treatment for the illnesses which accompany obesity, such as diabetes. Individual results depend on your procedure, age, physiology, level of activity, and, most importantly, how often you follow up after the procedure. After weight loss surgery, patients typically have a permanent excess weight loss of around 55%. Patients who strictly follow the post-operative recommendations will often lose more. In contrast, when severely or morbidly obese people successfully lose weight with diet and exercise alone, they generally only lose about 10% of their excess body weight, and only about 5% of these individuals are able to keep the weight off in the long-term.
Will I have to diet and exercise after the surgery?
You will have to change your eating habits after the surgery, but it is not a "diet" per se. Many people associate diets with feeling hungry and unsatisfied, but that is not how most bariatric surgery patients feel after their procedure. We will provide detailed suggestions on the best types of foods to eat that provide balanced nutrition. There will still be room for occasional treats and tasty foods of a wide variety. Similarly, exercise does not have to be painful and intense to be effective. Modest exercise, including walking and recreational activity, should be incorporated into your routine to help you maintain your health. There is no specific exercise regimen or program that must be followed, and we can help you think of some fun and appealing options that will get you excited to move.
Can bariatric surgery improve my overall health?
Overweight individuals often have other illnesses or diseases, such as type II diabetes, hypertension, and sleep apnea. Depending on the type of procedure, those with type II diabetes can see improvement over 90% of the time, and over 80% of the time the disease can go away completely. With this, risks of related heart disease, blindness, and amputation are also reduced. Obese patients who are able to lose weight after bariatric surgery are also able to reduce health risks related to a variety of other serious conditions, including cancer, hypertension, high cholesterol, sleep apnea, stroke, migraines, cirrhosis of the liver, arthritis, infertility, polycystic ovary syndrome, gallbladder disease, phlebitis, gout, and depression.
Will I be able to go off some medications after the procedure?
It's not unusual for patients to find that they need less medication or can cease taking certain medications entirely upon losing weight following bariatric surgery. Some examples include medications for high blood pressure, heart disease, arthritis, cholesterol, and diabetes. That said, you should speak with Dr. Parrish and your general practitioner before reducing or discontinuing any prescriptions.
Can I get pregnant after bariatric surgery?
Yes. Many women find that they are very fertile after weight loss surgery, more so than before the procedure. We recommend waiting about 12-18 months after having a bariatric procedure before electing to become pregnant. Women who conceive after this period can expect fewer pregnancy-related complications and healthier babies compared to women who have not had weight loss surgery.
To learn more about bariatric surgery options, please contact us today. We are always happy to provide you with any additional information you may need to make this important decision. We can also help you schedule a consultation with Dr. Parrish to further assist you in moving forward with your journey towards a happier, healthier lifestyle.
Schedule a Consultation
If you would like more information on laparoscopic gastric bypass surgery, or if you would like to schedule a confidential consultation with Dr. Parrish to talk more about your weight loss treatment options, please contact our practice.