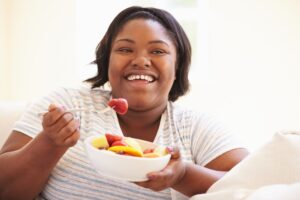 After making the decision to undergo weight loss surgery, your first step will be preparing your body for the procedure. Following the recommended pre-operative diet and exercise program can help ensure a safe surgery as well as an understanding of the lifestyle changes needed after surgery in order to be successful with long-term weight loss. A pre-approved diet is typically necessary before weight loss surgery to help patients:
Become comfortable with a basic nutrition and activity plan
Ease into consuming the right portion sizes
Reduce fatty tissue in the abdomen
Shrink the size of the liver to lessen the potential for surgical complications
Eat a protein-rich diet that can aid in tissue repair after surgery
As part of the preoperative program, patients meet with our dietician and will begin making healthy dietary changes right away. These will include a focus on food journaling, eating at regular intervals throughout the day, and decreasing simple carbohydrates. Patients usually begin a strict pre-surgery diet regimen at least two weeks prior to their scheduled bariatric procedure. This will be a solid diet consisting of lean proteins and non-starchy vegetables and will avoid sugar and excessive fats, which can increase the size of the liver. A clear liquid diet will begin two days prior to surgery. With that in mind, each treatment plan is customized and patients will be provided with dietary recommendations based on their specific needs.
If you would like more information about weight loss treatment options or making a decision about bariatric surgery, please contact our office to schedule a confidential consultation with Dr. James Parrish.