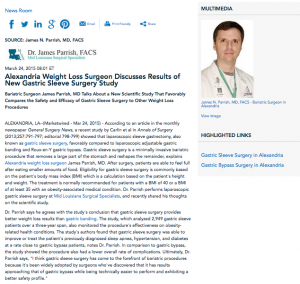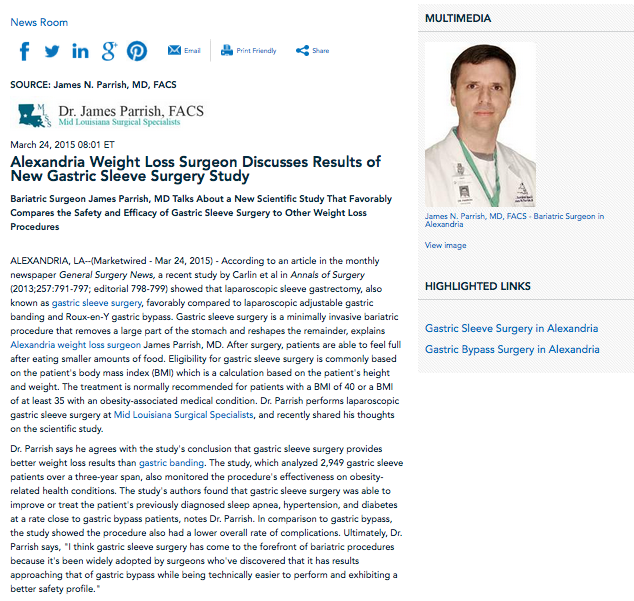 Bariatric surgeon James Parrish, MD talks about a new scientific study that favorably compares the safety and efficacy of gastric sleeve surgery to other weight loss procedures.
Alexandria, LA — According to an article in the monthly newspaper General Surgery News, a recent study by Carlin et al in Annals of Surgery (2013;257:791-797; editorial 798-799) showed that laparoscopic sleeve gastrectomy, also known as gastric sleeve surgery, favorably compared tolaparoscopic adjustable gastric banding and Roux-en-Y gastric bypass. Gastric sleeve surgery is a minimally invasive bariatric procedure that removes a large part of the stomach and reshapes the remainder, explains Alexandria weight loss surgeon James Parrish, MD. After surgery, patients are able to feel full after eating smaller amounts of food. Eligibility for gastric sleeve surgery is commonly based on the patient's body mass index (BMI) which is a calculation based on the patient's height and weight. The treatment is normally recommended for patients with a BMI of 40 or a BMI of at least 35 with an obesity-associated medical condition. Dr. Parrish performs laparoscopic gastric sleeve surgery at Mid Louisiana Surgical Specialists, and recently shared his thoughts on the scientific study.
Dr. Parrish says he agrees with the study's conclusion that gastric sleeve surgery provides better weight loss results than gastric banding. The study, which analyzed 2,949 gastric sleeve patients over a three-year span, also monitored the procedure's effectiveness on obesity-related health conditions. The study's authors found that gastric sleeve surgery was able to improve or treat the patient's previously diagnosed sleep apnea, hypertension, and diabetes at a rate close to gastric bypass patients, notes Dr. Parrish. In comparison to gastric bypass, the study showed the procedure also had a lower overall rate of complications. Ultimately, Dr. Parrish says, "I think gastric sleeve surgery has come to the forefront of bariatric procedures because it's been widely adopted by surgeons who've discovered that it has results approaching that of gastric bypass while being technically easier to perform and exhibiting a better safety profile."
Dr. Parrish estimates 85% of his patients undergo gastric sleeve surgery, 15% receive gastric bypass surgery, with very few patients receiving gastric banding procedures at his practice. Although the gastric sleeve procedure is commonly recommended, Dr. Parrish says he does advise gastric bypass for certain patients. "Several studies, including this one, reveal that a gastric bypass is somewhat more effective for patients with Type 2 diabetes. Patients with very severe diabetes may therefore want to consider a gastric bypass," he says. "I also recommend that patients with very severe acid reflux undergo gastric bypass instead of gastric sleeve since it more effectively treats this condition."
Dr. Parrish says continued advances in weight loss treatment options for patients fighting the effects of morbid obesity are extremely important. By discussing recent research findings, he hopes to increase awareness about the safety and efficacy of weight loss surgery so patients can make well-informed decisions.
About James N. Parrish, MD, FACS
Dr. Parrish is past President of the Louisiana Chapter of the American Society for Metabolic and Bariatric Surgery. A board-certified General Surgeon, Dr. Parrish is a Fellow of the American College of Surgeons. He is also the Medical Director of Bariatric Surgery at Central Louisiana Surgical Hospital and Christus St. Francis Cabrini Hospital. Dr. Parrish is available for interview upon request.
To learn more about Dr. Parrish and his practice, please visit alexandriabariatricsurgery.com.
Contact:
Dr. James Parrish, FACS
Mid Louisiana Surgical Specialists
3311 Prescott Rd Ste 201
Alexandria, LA 71301
(318) 277-9164
Rosemont Media
(858) 200-0044
www.rosemontmedia.com