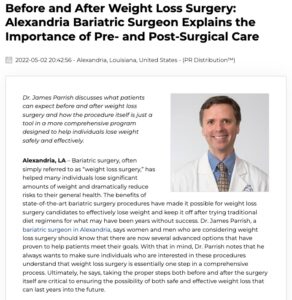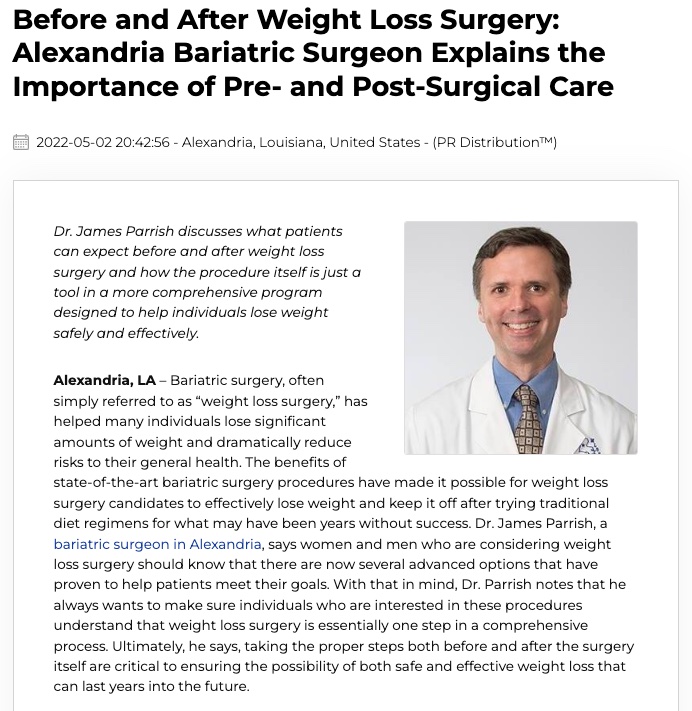 Dr. James Parrish discusses what patients can expect before and after weight loss surgery and how the procedure itself is just a tool in a more comprehensive program designed to help individuals lose weight safely and effectively.
Alexandria, LA – Bariatric surgery, often simply referred to as "weight loss surgery," has helped many individuals lose significant amounts of weight and dramatically reduce risks to their general health. The benefits of state-of-the-art bariatric surgery procedures have made it possible for weight loss surgery candidates to effectively lose weight and keep it off after trying traditional diet regimens for what may have been years without success. Dr. James Parrish, a bariatric surgeon in Alexandria, says women and men who are considering weight loss surgery should know that there are now several advanced options that have proven to help patients meet their goals. With that in mind, Dr. Parrish notes that he always wants to make sure individuals who are interested in these procedures understand that weight loss surgery is essentially one step in a comprehensive process. Ultimately, he says, taking the proper steps both before and after the surgery itself are critical to ensuring the possibility of both safe and effective weight loss that can last years into the future.
One of the most important things to remember about weight loss surgery, advises Dr. Parrish, is that it is a tool that can provide a great deal of assistance for patients who have not been able to lose weight through other means. There are other tools that must be used in addition to the surgery itself, and those are introduced to patients as part of the pre- and post-treatment protocols necessary to achieve safe weight loss that can be maintained over a long period after the procedure. Before undergoing surgery from his practice, or even before individuals have made the final decision to have surgery, Dr. Parrish says they can take advantage of free seminars and support groups that feature an abundance of information regarding various weight loss surgery options and what they can expect. He notes that these programs can provide an exceptional educational resource, along with the opportunity to ask questions of others who have been through similar experiences. Additionally, Dr. Parrish says the initial consultation with the patient is a critical step. During this meeting, patients can talk with him about their concerns and have their needs evaluated. Then, Dr. Parrish can discuss weight loss surgery treatment options such as gastric bypass surgery, gastric sleeve surgery, or others that may present the most ideal solution for the individual based on their unique goals and health needs. Once Dr. Parrish and the patient have selected the procedure and a customized treatment plan is developed, discussions with the practice's bariatric nutritionist, exercise specialist, and other members of the bariatric surgery team can help patients prepare for the surgery and gain a full understanding of what the expectations will be following the procedure.
After the procedure has been performed, Dr. Parrish says bariatric surgery patients will need to begin implementing a number of dietary and lifestyle changes that are crucial to success. Since certain types of weight loss surgery involve anatomical adjustments to the way food is digested, many individuals must take vitamin and nutritional supplements to ensure their bodies continue to be nourished with the proper daily allowance of vitamins and minerals. A daily nutrition regimen and exercise guideline will also be provided, and patients will need to attend follow-up appointments designed to check on their progress and ensure they are safely losing weight in accordance with the overall treatment plan. Furthermore, Dr. Parrish says, patients who are now in the after weight loss surgery stage can continue to avail themselves of dietary counseling services at the practice that can help them as they adjust their eating habits in ways that are not only healthy, but also enjoyable.
Dr. Parrish emphasizes that the decision to undergo bariatric surgery is a major step, one that can help many individuals as they embark upon a larger journey toward improved health and greater self-confidence. With a strong commitment to the steps necessary following surgery and the knowledge that the procedure itself is just the springboard to a new and healthier lifestyle, Dr. Parrish says it is significantly more likely that patients can safely achieve their weight loss goals and change their lives for the better.
About James Parrish, MD, FACS, FASMBS
Dr. James Parrish is a Fellow of the American College of Surgeons and a Fellow of the American Society for Metabolic and Bariatric Surgery. Dr. Parrish also holds the position of Executive Board Member of the Louisiana Chapter of the American Society for Metabolic and Bariatric Surgery (ASMBS), and he is a member of the Society of American Gastrointestinal and Endoscopic Surgeons. He is also a past president of the Louisiana Chapter of the ASMBS. The comprehensive bariatric surgery program for which Dr. Parrish oversees includes a variety of state-of-the-art options, such as vertical sleeve gastrectomy (gastric sleeve surgery), gastric bypass, LAP-BAND® Adjustable Gastric Banding, and the non-surgical ORBERA™ Intragastric Balloon procedure. As part of the program, individuals have access to a full range of support services, including seminars, nutritional and dietary counseling, and support groups that can help them along their weight loss journey with tools that can assist them with achieving safe, long-term weight loss. Dr. Parrish is available for interview upon request.
To learn more about Dr. Parrish and his practice, please visit alexandriabariatricsurgery.com or facebook.com/DrJamesParrish.
Contact:
Dr. James Parrish, FACS, FASMBS
Mid Louisiana Surgical Specialists
3311 Prescott Rd Ste 201
Alexandria, LA 71301
(318) 442-6767
Rosemont Media
(800) 491-8623
www.rosemontmedia.com