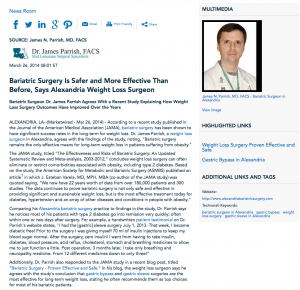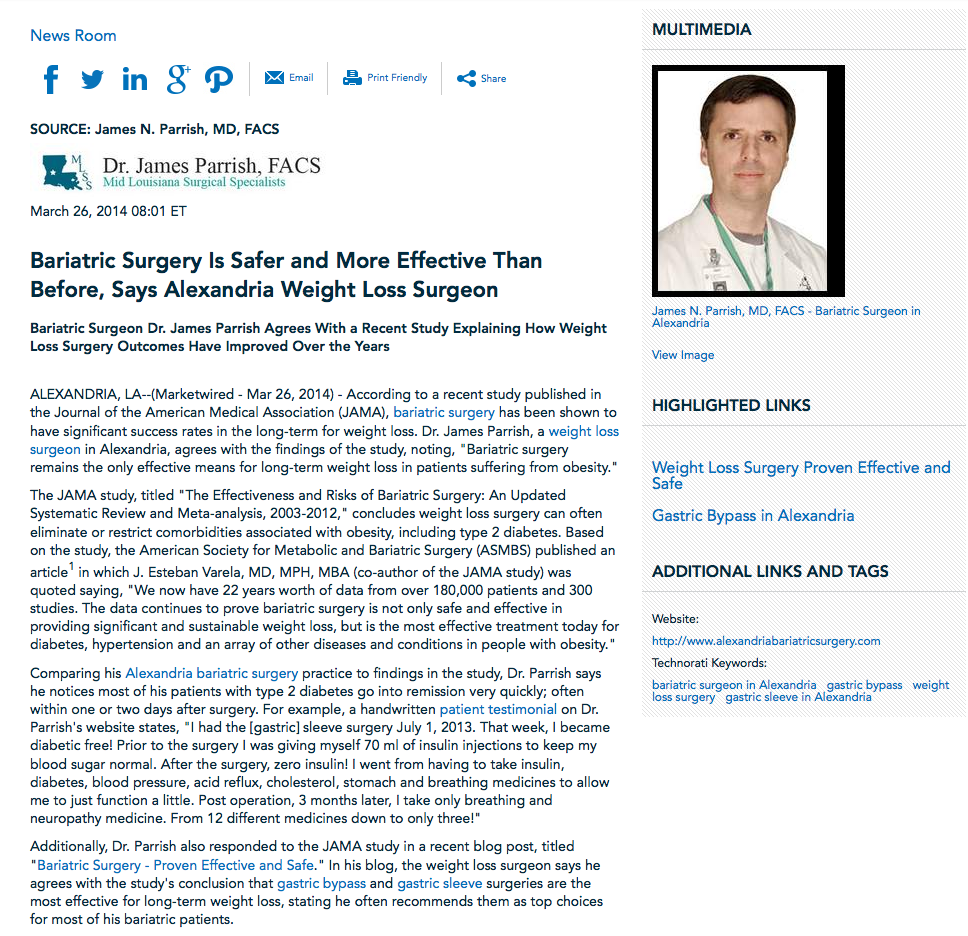 Bariatric surgeon Dr. James Parrish agrees with a recent study explaining how weight loss surgery outcomes have improved over the years.
Alexandria, LA — According to a recent study published in the Journal of the American Medical Association (JAMA), bariatric surgery has been shown to have significant success rates in the long-term for weight loss. Dr. James Parrish, a weight loss surgeon in Alexandria, agrees with the findings of the study, noting, "Bariatric surgery remains the only effective means for long-term weight loss in patients suffering from obesity."
The JAMA study, titled "The Effectiveness and Risks of Bariatric Surgery: An Updated Systematic Review and Meta-analysis, 2003-2012," concludes weight loss surgery can often eliminate or restrict comorbidities associated with obesity, including type 2 diabetes. Based on the study, the American Society for Metabolic and Bariatric Surgery (ASMBS) published an article1 in which J. Esteban Varela, MD, MPH, MBA (co-author of the JAMA study) was quoted saying, "We now have 22 years worth of data from over 180,000 patients and 300 studies. The data continues to prove bariatric surgery is not only safe and effective in providing significant and sustainable weight loss, but is the most effective treatment today for diabetes, hypertension and an array of other diseases and conditions in people with obesity."
Comparing his Alexandria bariatric surgery practice to findings in the study, Dr. Parrish says he notices most of his patients with type 2 diabetes go into remission very quickly; often within one or two days after surgery. For example, a handwritten patient testimonial on Dr. Parrish's website states, "I had the [gastric] sleeve surgery July 1, 2013. That week, I became diabetic free! Prior to the surgery I was giving myself 70 ml of insulin injections to keep my blood sugar normal. After the surgery, zero insulin! I went from having to take insulin, diabetes, blood pressure, acid reflux, cholesterol, stomach and breathing medicines to allow me to just function a little. Post operation, 3 months later, I take only breathing and neuropathy medicine. From 12 different medicines down to only three!"
Additionally, Dr. Parrish also responded to the JAMA study in a recent blog post, titled "Bariatric Surgery – Proven Effective and Safe." In his blog, the weight loss surgeon says he agrees with the study's conclusion that gastric bypass and gastric sleeve surgeries are the most effective for long-term weight loss, stating he often recommends them as top choices for most of his bariatric patients.
Although the study mentions there are still risks of complications associated with bariatric surgery, according to Dr. Parrish, the safety of these procedures is comparable to a typical laparoscopic gallbladder surgery. He reminds individuals who may be at risk from obesity-related comorbidities that weight loss surgery can help them improve their overall health. Dr. Parrish urges anyone suffering from obesity to contact an experienced bariatric surgeon and schedule a consultation to see how the surgery can help them.

About James N. Parrish, MD, FACS
Dr. Parrish is a Fellow of the American College of Surgeons, and is currently President of the Louisiana Chapter of the American Society for Metabolic and Bariatric Surgery. He performs a variety of weight loss surgeries at Central Louisiana Surgical Hospital and Christus St. Francis Cabrini Hospital, and he is Medical Director of Bariatric Surgery at both hospitals. Dr. Parrish is available for interview upon request.
To learn more about Dr. Parrish and his practice, please visit alexandriabariatricsurgery.com.
1 "Bariatric and Metabolic Surgery Even More Effective Than Previously Reported and Getting Safer" – connect: the official news magazine of ASMBS.
Contact:
Dr. James Parrish, FACS
Mid Louisiana Surgical Specialists
3311 Prescott Rd Ste 201
Alexandria, LA 71301
(318) 277-9164
Rosemont Media
[email protected]
(858) 200-0044
www.rosemontmedia.com