LAP-BAND®
The LAP-BAND® System can be an excellent way for many of our patients to effectively lose weight and live a healthier lifestyle. The procedure is minimally invasive, and helps to control portion sizes when eating, ultimately creating a feeling of fullness much sooner during meals.
The LAP-BAND® System was the first gastric banding procedure to be approved by the U.S. Food and Drug Administration (FDA). Ten years after its initial approval in 2001, the FDA's restrictions on candidacy for the LAP-BAND® Adjustable Gastric Band have been adjusted, allowing a greater number of patients to qualify for the procedure. Now, patients with a body mass index (BMI) of 30 or more, in addition to at least one obesity related comorbidity (health condition) are considered potential candidates for the LAP-BAND® System.
Examples of some of the conditions that may qualify include:
Sleep apnea
High blood pressure
Type-2 diabetes
Heart disease
Dr. James Parrish can evaluate you in order to determine if you are a candidate for this procedure. If you do not meet the requirements, Dr. Parrish will recommend an alternative treatment plan in order to help you lose weight and improve your overall health. Please contact us today to schedule a consultation.
Benefits of the LAP-BAND® System
Patients who have had LAP-BAND® Adjustable Gastric Banding surgery are typically able to steadily lose weight at a healthy rate. After surgery, you should have minimal scarring, as the procedure is accomplished laparoscopically. This method eliminates the need for large incisions, and works to minimize procedure and recovery time. The LAP-BAND® System allows for ongoing absorption of valuable and beneficial nutrients such as Calcium, B12, and Iron. The shape of your stomach will not be permanently altered, and the band can be adjusted to allow for greater or lesser food intake before a feeling of fullness sets in. Since this procedure is reversible, the gastric band can be removed at any time.
LAP-BAND® Adjustable Gastric Band Procedure
During LAP-BAND® System surgery, Dr. Parrish will section off the upper portion of the stomach by laparoscopically inserting and attaching a saline-filled adjustable band. Once attached, the band creates a small pouch in the upper portion of the stomach. The pouch allows you to limit your food intake and feel full much earlier than usual while eating. The amount of food you are able to consume before achieving a feeling of fullness can be increased or decreased postoperatively by adjusting the amount of saline in the band. This can be performed as a simple office procedure.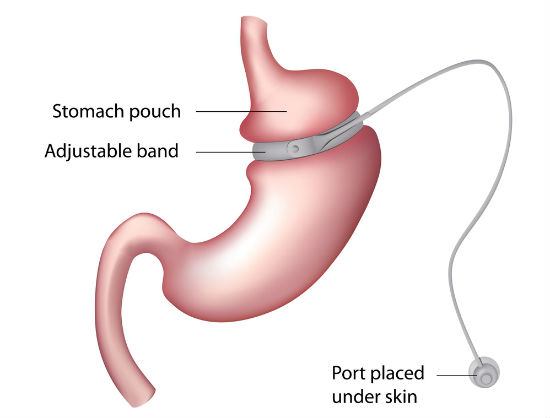 LAP-BAND® System Recovery and Aftercare
Because we use a laparoscopic procedure to insert the LAP-BAND® System, recovery times are generally short. The procedure is done on an outpatient basis, and most of our patients have been able to gradually return to their daily activities after a few days. We will schedule regular follow-up appointments with you over the ensuing year to make sure you are losing weight safely and effectively.
LAP-BAND® System Results
Patients from across America have experienced successful results with LAP-BAND® System surgery, shedding hundreds of pounds and turning their lives around.
After the LAP-BAND® System procedure, it is important to continue working towards a healthier lifestyle. This surgery is intended to assist people on the road to becoming healthier; it is not a cure for morbid obesity by any means. Our practice offers excellent resources to help our patients maintain a healthy weight after surgery and continue to make positive lifestyle changes. Staying on track after surgery can be difficult to do alone, so we encourage our patients to join one of our support groups and follow nutritional guidelines to help them through the process.
Dr. Parrish and his team of medical weight loss professionals are here to support you, and we will provide you with information and materials to help you throughout your weight loss journey.
Contact Dr. James Parrish
If you feel that you may be able to benefit from LAP-BAND® Adjustable Gastric Banding, or perhaps another form of bariatric surgery, please contact us today to schedule a consultation with Dr. James Parrish.